La Hormiga, Putumayo, was the epicenter of several guerrilla incursions in previous times, site of confrontation of groups outside the law, where Luz Marina and Henry Gaviria, protagonists of this story, were also displaced.
Luz Marina Narváez Gutiérrez is a coffee woman who sometimes requires more than 24 hours a day to advance her many family and field tasks. Being a housewife, helping in the coffee transforming process, and taking care of the family, especially her daughter with cognitive disabilities, make a day in the life of this brave leader pass at the speed of light.
"The hardest part of all that I have to do is to deal with workers, you have to cook for them, some do eat everything you give them, but there are others that are very demanding; managing people is the most complicated of all this issue, I also have a sick girl (motor and cognitive problems) which takes a lot of time from me to take care of things, but I do everything with pleasure and always giving thanks to God, "says Luz.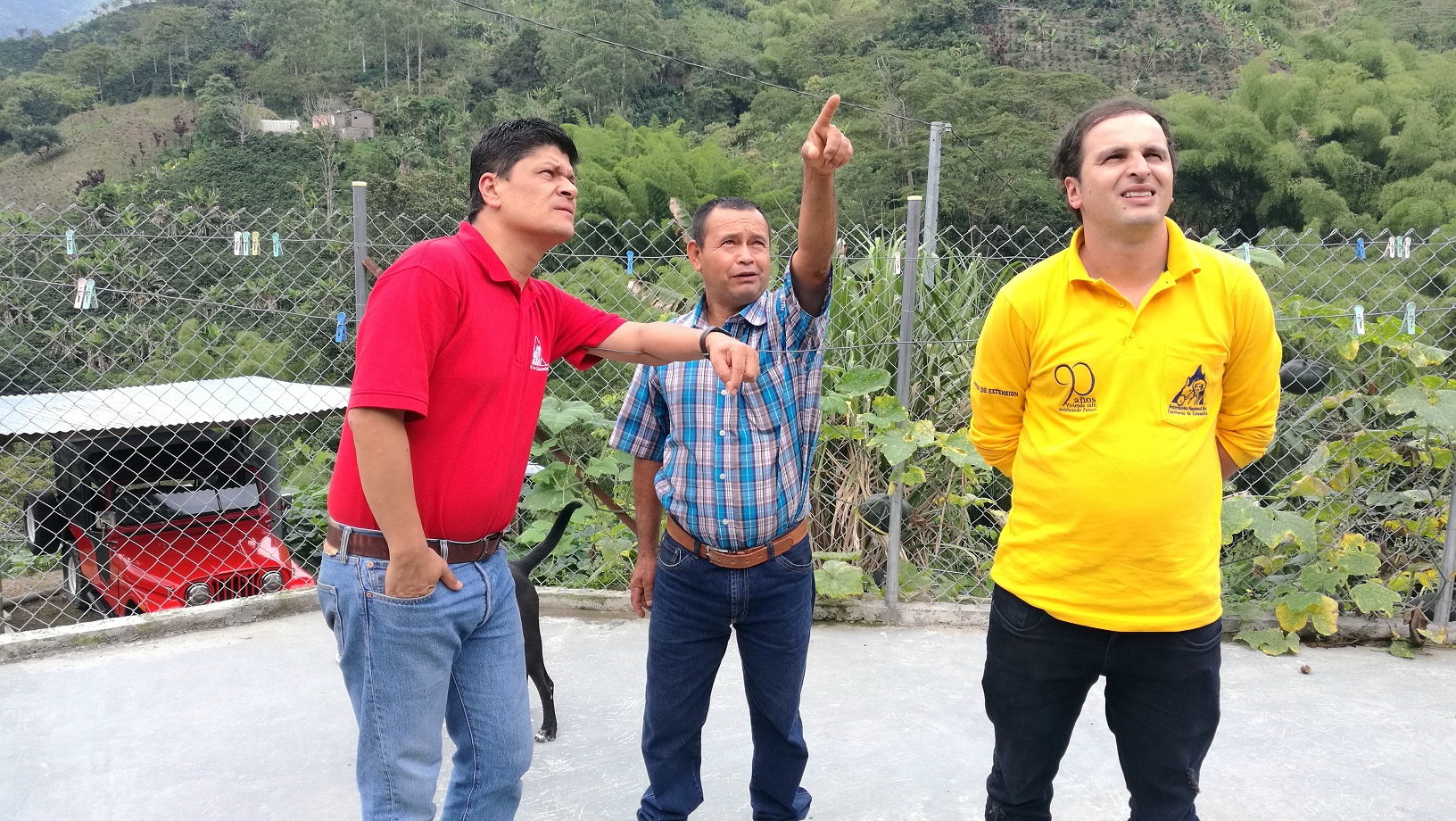 The daughter whom she takes care of so fondly for 31 years is named María Cielo: "this whole process has been very difficult with her, it's been three decades that we have been suffering, but at the same time it has been a process that has been valuable; for me, the girl is a blessing from God and I strive to have her in the best possible conditions."
The family of six members – she, her husband Henry, two sons and two girls – arrived in Santa Rosa de Cabal, Risaralda, almost a decade ago: "I have to thank you for all the support we have received for the Unit for the Victims and the other State entities; when we arrived we found a small house, which we transformed throughout this time, due to the situation we had with the girl; we had already received administrative compensation from the Unit due to forced displacement."
With the compensation money Luz Marina and her husband managed to expand the kitchen and build another room, to be more comfortable. "I think we are an example that we can get ahead, with the help of God and the State, even if we are victims; help yourself and I will help you, as victims, we have been helped, but we have taken advantage of all the opportunities they have given us, for example when they gave us humanitarian aid, we were clear that that money was to be invested in the coffee project at the farm, improve our life condition, and when they compensated us we invested in housing".
According to her, among the agricultural families there are many people who say: why coffee? but as they have experienced it, he who is disciplined lives from the sowing of the grain: "we have lived from the coffee industry until now, coffee has been our salvation, plantain crops are going a little bad though, but everything is possible if you have the will power".
For Luz and Henry, coffee is essential when talking about you're their life project. She had been taught by her grandparents to work with coffee since she was a child, which provided them with livelihood. Today, it even gives them the opportunity to give work to others, because in harvest time they can employ between 10 and 12 people. With the sale of the product they are progressing, they already have a peeling machine and marquee, and they are very happy washing coffee and selecting choosing the pasilla coffee; especially her: "it is better than being in the kitchen", she says.
"I was born and raised on coffee farms, other than that we have the fortune that our descendants also like farming, in many families they do not like it and therefore there are increasingly fewer people in the countryside and more in the city."
The eldest daughter of this couple lives in Lorica, Córdoba, loves coffee and cultivates it, and even when she visits them in Santa Rosa, she also harvests coffee with her parents. "I tell young people to push forward, coffee farms are an economic asset for one, my children help us with this because later it is what they will inherit, it is good not to depend on anyone and that everyone can live on their own business."
The displacement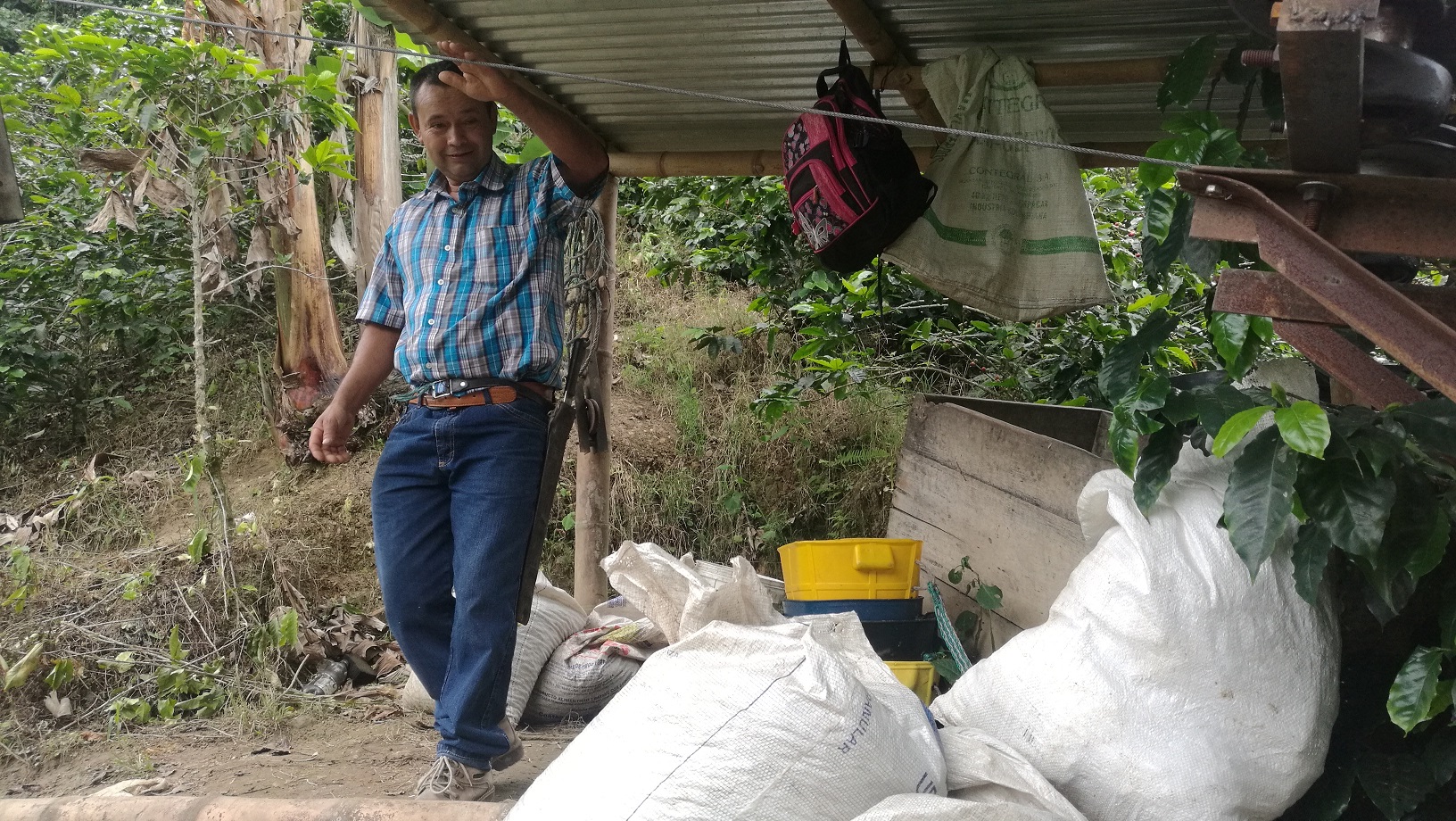 "We came displaced from La Hormiga, Putumayo as result of the armed conflict, my husband came to these lands because he had already harvested coffee for them, at first we paid rent, then we made the declaration as displaced people and they accepted us thanks to God, we started receiving Humanitarian aid and Land Restitution also awarded us a plot, it was there when we started a new life".
When they arrived to live in Alto de la Mina, they just brought a mattress and a stove under their arms because everything had to be left behind in La Hormiga, home, furniture, crops of coffee, banana, corn, and pineapple. They came to work on coffee farms and little by little life gave them a new opportunity.
"It is not a secret for anyone that in La Hormiga there was a lot of armed conflict going on, unfortunately we unfortunately we were in the middle of both groups, when we saw that our neighbors started to leave we came because they did not let us work, "says Henry Gaviria.
What they were most afraid of was when they started the trip to the Coffee Zone was what they could find when they settled in Santa Rosa, but as days went on they took confidence to be able to settle and remain calm, as they themselves claim.
"We are very happy here, I would not return to La Hormiga, we already made roots in this land and with all the progress we have had we do not want to return, the idea is to continue making progress in this beautiful municipality, to start somewhere else would be too difficult".
Every day they thank God for having a farm and being able to be at peace with the family; in the morning they turn on the stereo equipment at full volume and thus people along the trail in the hamlet may know how happy Luz is and the neighbors know when she is not there, because that day the stereo is not on.
A united and entrepreneurial couple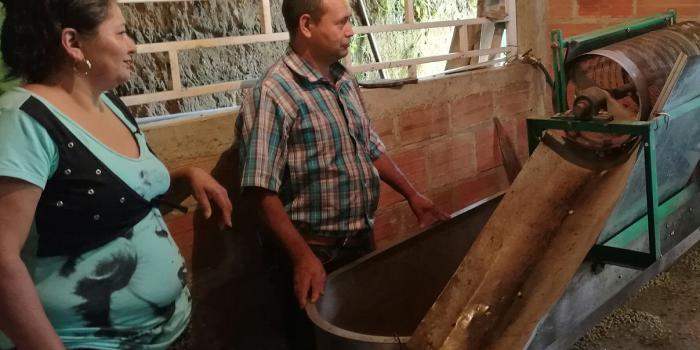 "I met her in my wanderings in Putumayo, since I was 14 years old I left La Unión, Nariño, and I wandered for many departments (provinces) harvesting coffee, when I arrived at La Hormiga I saw Luz in one of the farms where she worked and we fell in love. When the displacement took place, we first went through Tuluá (Valle), because my wife is from there, but we only endured two months and we came to Risaralda. Thanks to the Incoder, the Victims Unit and the Land Restitution Unit, we were able to settle ourselves definitively here, "says Henry Gaviria, Luz's husband.
At home, all decisions are made together; for example, he goes to town to quote supplies and materials to keep the farm and the crops well, and before making the final purchase he calls Luz to agree on the cap on the investment. The organization and clarity in accounts is one of the couple's priorities.
Henry is witty in the field. After observing two pulley systems in coffee farms, he designed and built a pulley that allows him to send the coffee sacks down the mountain by an air system with which the workers do not have to load coffee; the grain arrives directly to the beneficiary through a PVC pipeline.
"The construction of the pulley was quite an odyssey, thank God that gave me the wisdom, first I observed two projects already made, then we took the measurements and made calculations, we bought the accessories, cables, pulleys, and towers, the foundation material was carried on mules, 36 sacks of construction material, we are reaching our third year with them without any problem, they are about 230 kilos in each coffee trip ".
"The countryside is very good because it gives us the sustenance of every day, not only for the peasant, but the people who live in the city, for that reason I teach my children to love the countryside to be able to get ahead," insists Henry.
"The State gave us these lands in which we have coffee and plantain crops, with the productive project of the Unit we planted this coffee 6 years ago, we started with 7,000 seedlings and we also received a lot of help from the Coffee Growers Committee and the Agrarian Bank, today I can proudly say that we have 21,600 coffee trees producing in seven blocks, God is great. "